This four-part blog series will provide a participant account and an inside look at Thrive Talent's Fundamentals of Leading People program. Each week, I will share an overview of the week's content and recap of what we discussed and learned in our facilitated live sessions. If you're considering this program for yourself or emerging leaders on your team, or if you're just simply curious, follow along as I share my experiences and take aways week by week.
Week one is all about awareness. After our kickoff session, I was pumped to explore the learning platform and jump into the week one content. Each week, an overview of and timeline for the courses and activities is provided, which makes staying on task simple. Overall, I found the workload manageable, and the content thought provoking and engaging.
Week 1 eLearning Content
In addition to the virtual live training session on employee engagement, there were a variety of eLearning modules to complete. These modules were thought provoking, easy to navigate, and had clear, actionable takeaways to start implementing right away. Some of the topics covered include:
Leadership Traits & Styles
Developing Self Awareness
Effective Communication & Listening
Emotional Intelligence
Building Trust and Credibility
Each module had real world examples, self-assessments and knowledge checkpoints that encouraged me to apply what I was reading not only to my work, but also my personal life. Unlike other training programs I have participated in, Thrive eLearning offers a solid mix of theory and application – giving me both new conceptual ideas and tangible skills to have in my professional toolbelt.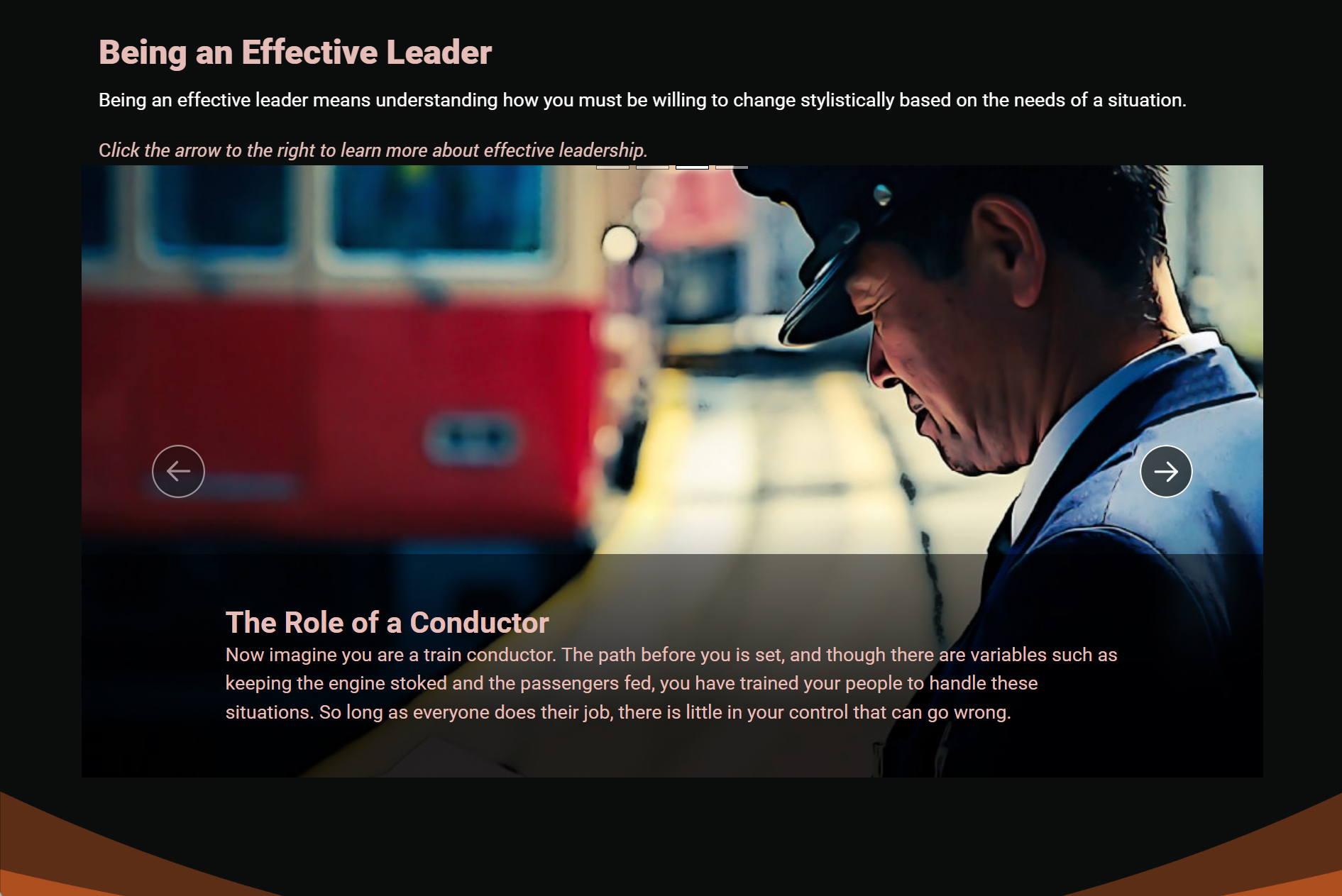 Week 1 Virtual Instructor-Led Training
The week one live session, Building Employee Engagement, gave me an opportunity to learn from both the Thrive facilitator and from the other program participants. This was, refreshingly, far from a boring, lecture-style presentation. Rather, our facilitator acted as our guide – providing context and encouraging us to learn through sharing our ideas and experiences. Our dialogue sought to answer questions like:
What is the goal of employee engagement in your organization?
What does engagement look like? Does that change at different org levels or at different phases of the business cycle?
Does every employee need to be engaged? If so, what complexity does that add to your role as a leader?
How do we measure engagement?
How do we react to engagement wins? What about failures?
Over the hour session, we approached these complex topics and came away with a better understanding of what engaging employees means as a broad topic, but also how to approach customizing that to our individual workplace environments.
I am looking forward to the rest of the program and will be sharing my experience along the way. Keep an eye out each week for an update, starting with Week 2: Leading Individuals.
Secure your spot in the next Fundamentals of Leading People program
Stay up to date – follow us on LinkedIn!